Looking for Love?
Mister-right reviews dating sites with an emphasis on genuinely free sites Click on any of the links on the left to visit a review, or go to the site index. Dating Advice Page - Special offer!
Most recently reviewed sites
Quickflirt.com Quickflirt is a free to register online dating site based in the UK and run for UK people. If you're up for flirting and chat it's the right place for you. They have no initial joining fee and you can get online to flirt and chat on one of the UK's biggest and best picture dating sites within minutes. There is no mention of charging, but as they say 'no initial joining fee', that implies there is charging somewhere along the line. However, as it's free to join, you can decide for yourself once you've had a look around whether to pay for extras or not...MORE
Truedate Everyone who registers as a free member of TrueDate.com gets a personal home page, a personal mailbox and tools to filter suitable candidates from the database. If you don't want to be seen by other members, you can temporarily hide your profile. You can simply block members whose messages you don't want to receive any more...MORE
Sponsored reviews
If you want your site review to feature here contact us by email
At Romantic Planet you are free to create and post a profile, browse matching profiles, search profiles, establish friendships via conversation starters, send introductions and reply to introductions from subscribers.
If someone you are interested in has indicated interest in return and neither of you are subscribers, only one of you must subscribe to move beyond conversation starters and begin the exchange of personal, customized messages.
Dating site LuvFree.com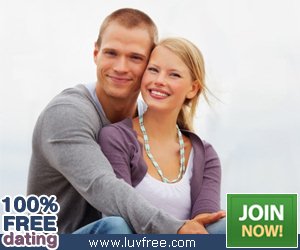 ---